Klinik Farma – Bareskrim Polri has completed an investigation into Al Zaytun (Ponpes) Islamic Boarding School warden Panji Gumilang for alleged money laundering or TPPU, corruption and embezzlement. During an eight-hour investigation, Panji admitted that all financial transactions of the Al-Zaitun Indonesian Islamic Boarding School Foundation (YPI) were conducted using a personal account.
Director of Special Economic Crimes (Dirtipideksus) Bareskrim Polri Brigadier General Whisnu Hermawan said the inspection was carried out yesterday Monday (07/08/2023). Under interrogation, Panji also admitted that all financial dealings of the YPI had to be based on his approval as the Board of Trustees.
"He, as Chairman of the Board of Trustees of the Indonesian Islamic Boarding School Foundation, said that all transactions related to finances in the foundation should be based on his orders," Wisnu said at Bareskrim Polri, Kebayoran Baru, South Jakarta on Tuesday (08.08 .2023).
Panji's confirmation, Wisnu continued, was in line with the Financial Transaction Reporting and Analysis Center's (PPATK) Report of Analysis or LHA. It is planned that the investigator will carry out the name of the case in order to transfer the case to the investigation stage.
Read also:Confessions of military observers struck by a large ship in Al-Zaytoun: it will be as big as the ship of the prophet Noah
"Perhaps this week we will fix the name of the case to speed up the investigation process," he said.
Alleged corruption in BOS funds
Earlier it was reported that Bareskrim Polri found signs of corruption in the School Operational Assistance (BOS) and zakat funds committed by Panji in his capacity as caretaker of Al-Zaytoun Islamic boarding school.
At that time, the head of the Bureau of Public Information (Karopenmas) of the Public Relations Department of the National Police, Brigadier General Ahmad Ramadan, reported that according to the results of the coordination and analysis carried out by the investigators of Dittipideksus Bareskrim Polri together with the specialists of the PPATK and the TPUPU.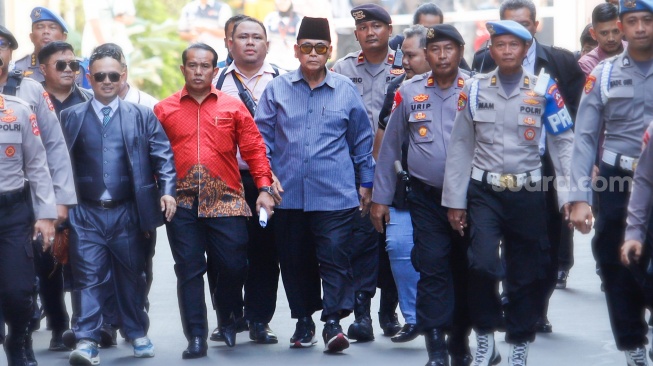 "As a result of the agreement and analysis of the transaction, it was found that there were allegations of misuse that indicated criminal acts related to funds, criminal acts of embezzlement, criminal acts of bribery of BOS funds, crimes related to the management of zakat from PG (Panji Gumilang)" , Ramadan told reporters on Friday (July 21, 2023).
Read also:Corruption in telecom towers and GPON, former managing director of Jakpro becomes a suspect
Hundreds of accounts blocked